Toxin Rid 10 Day Detox Review
Over the past 12 months, I have been researching and testing about 20 different detox programs and products, all with very mixed results.
It's strange; either the products work really well, or they do practically nothing to increase your chances to pass a drug test.
Toxin Rid 10 Day Detox is a natural detox option that I had high hopes for because my initial research showed that it should work well for people with toxin exposure and a tendency to enjoy some occasional party drugs.
For a long time, synthetic urine has been the best solution to pass a drug test, but with some states in the US now banning fake pee, doing a natural detox is quickly becoming the safer option.
The big question is: how does Toxin Rid 10 Day Detox work, and is it reliable to pass a drug test?
Here's a Toxin Rid review to answer those questions and more.
What Is
Toxin Rid

?
While it isn't specifically designed for passing a drug test, the way it claims to work for other toxins should work for trace elements from drug use as well. I'll get to my own results shortly, but let me say right here that it won't work for a hair drug test.
How Does
Toxin Rid Work

?

Essentially, Toxin Rid works by combining herbs, vitamins, and minerals to create pre-rid pills, detox liquids, and a fiber supplement to increase the efficiency of your kidneys and liver. By adding a load of water intake, you'll have to urinate a lot, thereby flushing out the toxins.

This natural detox is available in 3, 5, 7, and 10-day programs. The option you choose will depend on the level of toxins present in your body. If you're just an occasional weed smoker, the 3-day and 5-day options are likely enough, but you can always stay on the safe side with the 10-day option.

However, compared to other products I have tested, even the 10-day one is not as powerful, and you'll shortly find out about my results from testing it multiple times.
What
Ingredients

Are In Toxin Rid?
Unfortunately, the company that manufactures Toxin Rid hides behind a proprietary blend. It means that they don't publish the exact details of each of the pills and liquids in the detox program.
The first pre-rid pills are taken to kick off the cleanse, and they contain a blend of herbs that increase kidney and liver function. The detox liquid drink also contains herbs that keep your metabolism active as well.
From the fourth day, it's recommended that you mix the dietary fiber pouch with water, followed by 16 ounces of water.
Are There Any
Side Effects

?

This is another area where this product doesn't quite stack up to some other ones I've tested.

In many reviews that I read, a lot of users were complaining about an upset stomach. I experienced this as well, and it wasn't the usual bloating that you might expect from drinking so much water.

What also bothered me is that you need to be fasting for quite a few hours, especially after taking the fiber. I ended up waiting at home, staring at the contents of my fridge, which just drew more attention to the stomach cramps.

Still, the question you have to ask yourself is whether maintaining the toxin exposure is worse than putting up with a few days of bloating.

Related Reviews:
Dank Detox Reviews
Premium Detox Reviews
When Should You Take

Toxin Rid?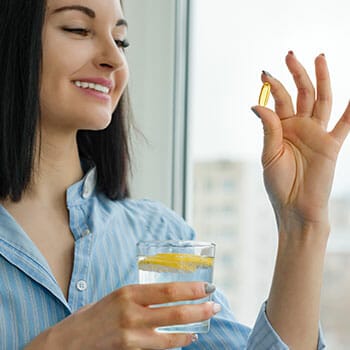 Unlike most detox drinks, Toxin Rid has a slightly different approach. You have a mix of the best detox pills to take in the first few days, followed by a daily detox drink. From the fourth day, you should also take the fiber powder that comes in the kits.
The instructions are quite easy to follow, but it might take a day or two to get used to the volume of water you have to drink.
The pre-rid pills have to be taken once an hour for 5 hours on the first day. Each time, you take 3 pills with as much water as you can. It's best to do this at home because you will need to pee a lot.
From the second day, it gets a bit easier with the detox liquid that you split into 2 portions and take it with 16 ounces of water each.
This will produce a lot of urine. But that's a good sign, since it means you're flushing things out.
How Long Does It Take

For Toxin Rid To Work?

The company claims that Toxin Rid 10 Day Detox is effective within hours of consumption.

Such bold claims always set off alarm bells in my head. Any detox pills that say you can get rid of most toxins in your body that quickly are most probably hiding something.

So, I put it to the test with a home drug test kit that checks your urine for marijuana. After finishing the first day, I checked my urine, and there were enough toxins left for a simple home test to pick it up.

After 7 days, I had one passed and one failed drug test result based on my urine, so not a promising sign.
FAQ
Does Toxin Rid work for drug tests?
Yes, Toxin Rid can work on some drug tests, but results from users have been quite hit-and-miss. It seems like the more sensitive modern test equipment will still pick up on toxins, and it won't be effective for a hair drug test.
Where can you buy Toxin Rid?
You can buy Toxin Rid directly from the company website, which is the safest place. Alternatively, you'll find some smoke shops that stock it as well.
How long does Toxin Rid last?
Toxin Rid will last for as long as you remain clean and are not exposed to any drugs or other toxins. As soon as you take some drugs again, you'll have to repeat the process.
Is Toxin Rid a permanent detox?
Yes, Toxin Rid is designed to be a permanent detox. However, any new toxins introduced will have to be followed up with another natural detox period. If you have to do regular drug tests, then this could become a common process.
How well does Toxin Rid work?
Toxin Rid doesn't work as well as some of the other detox options out there. If you are only an occasional pot smoker, then a 7-day or 10-day natural detox like this can work. But for heavier use, there are better options that I'll recommend in the conclusion.
Conclusion: Is Toxin Rid A
Good Choice To Make

?
Based on reading through hundreds of Toxin Rid 10 Day Detox reviews and my own test results, I have to say that a much better natural detox product is Rescue 5 Day Detox.
For a very similar price, it does a much better job of flushing out your system, and it doesn't require as many pills.
In less than a week, you can be ready for a urine drug test, with countless reviews saying that the pass rate is very high.
Check out our designated Rescue Detox review for more details.