Herbal Cleanse QCARBO32 Review (2023) Is It Proven?

Over the past couple of months, I've been doing some "top secret" testing of some of the more popular detox drinks. One of these kept popping up in some Facebook groups I hang out in, and it's called Herbal Clean Qcarbo 32.
Now I'll say right from the start that the numerous reports I saw on Qcarbo32 detox showed quite a large divide. To have that maximum strength label, people expect the best. Some people swore it worked, while others had tested positive for a drug test.
To help better understand what was happening, I decided to dig deep into it, compile both negative and positive review comments from users online, as well as from people I know who have tried it, and do thorough research on how this compares with similar cleansing products available.
So before you put your blind faith in this product for your cleansing needs, just check out this Qcarbo32 review.

What Is Herbal Clean
Qcarbo32 Detox Drink

?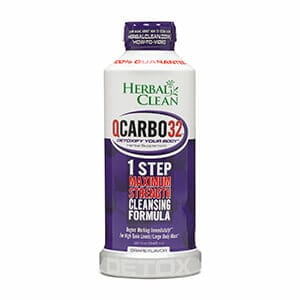 Herbal Clean Qcarbo 32 is a cleansing product in the form of a detox drink made by a company called GNC and marketed as Herbal Clean. GNC is a trusted brand and it claims that this product is a powerful detox drink that uses natural herbs to trigger the detox process in the human body.
Specifically, these processes may help to remove toxins that would be picked up in standard drug testing. While it's mainly marketed for the health and wellbeing niche, these products have been shown to help people who may need to submit to a regular piss test.
I'll get into the details of what it contains next, but basically, Qcarbo32 is a drink that aims to flush out toxins from your body.
While the list of ingredients is longer than most other drinks offer, the big question is whether passing a urine drug test would be possible if you're a heavy smoker.
First, though, let's see what's inside.

Herbal Clean Qcarbo32
Ingredients
As you'll see shortly, the list of active substances is entirely based on natural herbs and proteins. The main advantage of this is that it reduces the risks of negative side effects.
Unless you have a known allergy to one of the items on the below list, you shouldn't expect any discomfort or reactions from the detox drink.
Here is a detailed list of the ingredients that may help prepare you for a urine drug test:
Maltodextrin
Dandelion root extract
Burdock root extract
Creatine Monohydrate
Turmeric root extract
Milk thistle seed extract
Echinacea purpurea leaf extract
Juniper berry extract
Psyllium seed husk
Licorice root extract
Uva Ursi leaf extract
Ligustrum berry extract
Cornsilk extract
Apple pectin
Alfalfa leaf extract
Triphala fruit extract
Guarana seed extract
Cayenne pepper
I won't go into details about all of these, but there are a few interesting ones. For example, turmeric and cayenne pepper are known potent antioxidants that have been extensively tested [1].
Juniper berry has also been clinically tested, and even a small amount may help to improve liver functions to flush out toxins [2]. And with alfalfa leaf, your kidneys might increase their effectiveness, as some studies have shown it to be effective at dealing with diseases [3].
So far, it all looks good for a THC drug test, right?
Alfalfa is used for kidney conditions, bladder and prostate conditions, and to increase urine flow. It is also used for high cholesterol, asthma, osteoarthritis, rheumatoid arthritis, diabetes, upset stomach, and a bleeding disorder called thrombocytopenic purpura.
– WebMD.com
How Does Qcarbo32 Detox Drink
Work

?
So, we now know what's in the Herbal Clean Qcarbo32 detox drink, but how exactly does it work? Three things may happen in the body after drinking this detox.
First of all, the antioxidants will target free radicals in the bloodstream to remove them from your system.
This mainly happens through the liver, which Qcarbo aims to stimulate. Finally, your kidney function may be increased to flush out the filtered toxins, making the detoxification process faster.
All of this happens naturally, but under normal conditions, it could take days or weeks to clean out the toxins.
Based on the theory, the Qcarbo32 detox drink did look like a good option for me as a way to pass a drug test.
So I went ahead and followed the instructions for this herbal clean drink.
Herbal Clean Qcarbo32
Instructions

My initial suspicion was that many people weren't using this herbal clean product right, which I did see mentioned in some of the other customer reviews. This is how you would correctly use it to prepare for a drug test:
Avoid any drugs and toxins for at least 48 hours
Plan to take the Qcarbo32 detox drink on an empty stomach, ideally first thing in the morning.
Shake the bottle well and drink the entire glass of liquid in about 15 to 20 minutes.
Refill the bottle with water and drink this within half an hour.
Urinate frequently and drink as much water as you can for at least one hour after
In simple terms: make sure you follow the detox drink instructions if you want to pass drug tests.
Related Articles:
Getting The
Timing Right
Now, the big question is around the timing of using Qcarbo32 herbal clean product to pass a drug test.
Some of the reviews I read said it wasn't a good product because the person got a positive result during a urine test 24 hours after the detox.
I don't think you'll find any herbal clean product that could achieve that.
At best, you would want to start the detoxification process about 2 hours before the test. But avoid providing a sample more than 5 hours after the detox.
How Much Is

 Qcarbo32?

Qcarbo32 costs $49.99 for a single 32-ounce bottle. This is about the average price, but some products like this have higher success rates.

More on that shortly.

If you plan on using Qcarbo herbal clean on a more regular basis, then you could save 10% by setting up the auto-delivery option. You'll receive a new bottle every 30 days, which may be suitable if you have to provide regular urine samples for a monthly drug test. It could also be a vitamin B complex supplement if you want healthier living while burning fat cells.

FAQ
How long does it take for Qcarbo32 to work?
It takes about one to two hours for Qcarbo32 to work. That's about the same as other detox drinks, and the more water you take in, the higher the pass rate for drug testing could be.
Why Is Herbal Clean Qcarbo So Popular?
Herbal Clean Qcarbo is so popular because it's entirely based on natural substances that are generally safe to use and well-tolerated. They are also not on any controlled substances list, which could pose a problem when providing urine samples.
Can you buy Qcarbo32 at Walmart?
No, you cannot buy Qcarbo32 at Walmart, and you should avoid buying it anywhere other than the official company website. There are countless reports of fake detox drinks on the market, with people reporting everything from stomach upset to failing a drug test as a result of counterfeit detox drinks.
Does Qcarbo32 work for all drugs?
No, Qcarbo32 doesn't work for all drugs, and people with heavy drug use are also less likely to get enough benefit from it. Other options on the market have shown better results.
Conclusion: Does Qcarbo32 Detox Drink
Work

?

Qcarbo32 works for some people, and there are plenty of positive Qcarbo32 reviews. However, my test results using the detox drink were quite mixed. I tested it with a friend several times and used home test kits on a few occasions, and while my friend did pass a drug test on the first try, the two further tests failed. I wouldn't recommend something with that high of a risk unless you just want to burn fat cells instead.

If you have to pass a drug test, then I would suggest trying out Rescue Cleanse. I have a dedicated review page for you to find out more. Both online customer reviews and my test review showed that they had a higher success rate.