What's the Best Detox Drink Today?Reviews, Ratings & Buying Guide
When I first heard about natural detox drinks, I had all sorts of extreme weight loss and detox diets that would have you running to the toilet every couple of minutes, came to mind.
While there are some digestive stimulants that have that effect (not sure why you would want to go for such an experience), there are plenty of detoxification products that can help remove all sorts of toxins from your body in a much less extreme manner.
Over the past year, I've spent a lot of time researching and testing out some of the more popular brands available.
I've done this with the aim of creating a list that my readers can use to help with a detox period for a possible drug test.
Let's dive right into my recommendations.
The
10 Best Detox Drinks

in 2020
1 – Clear Choice Rescue Cleanse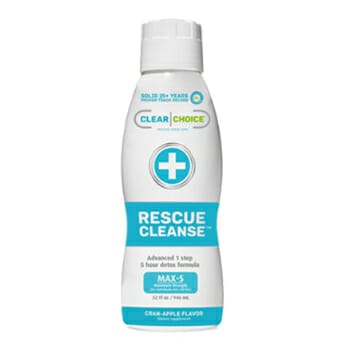 Clear Choice Rescue Cleanse has been making detox products for over 25 years, and this rescue cleanse option, by far, seems to be their best-reviewed option. First off, it's not actually going to get rid of toxins for you, but rather get you to a position where any toxins are masked or diluted enough to pass a drug test.
Basically, you take the 32 ounces about 1 to 2 hours before the drug test, on an empty stomach. Then go for a pee as often as possible and drink an extra cup of water to really empty out your bladder a few times. You can also drink cranberry juice every few hours to help with the process.
Apparently, this premium drink should give you up to five hours where you should test clean, but I wouldn't push it that far.
Pros
Claims to be suitable for heavy smokers and people over 200 lbs of body weight
The 32-ounce bottle claims to start working within an hour
Available in a smaller bottle if you're an occasional smoker
Decent cranberry juice and apple flavor
Cons
You need to be toxin-free for 72 hours
On the downside, you'll need to abstain from any drugs, or even second-hand smoke for 3 days beforehand to make sure it works effectively.
2 – Quick Clear Detox
Quick Clear comes from a very well-known brand that is one of the more popular options of fake urine (Quick Fix). What sets this product apart is that it involves a combination of a drink with 8 pills that contain natural herbs and vitamins.
The claim is that it will flush out your system using the body's natural cleansing process within 1 hour. Because flushing out toxins will also result in lost vitamins and minerals, the nutrient-rich pills aim to provide immune and digestive benefits.
Pros
Combines a detox drink with vitamin C pills
Detox capsules provide health benefits by replenishing lost vitamins
Available in refreshing orange, mango, and blueberry flavors
Easy-to-follow instructions
Cons
Many comments state you need to be toxin-free for at least 7 days
The main downside I saw is that that many users said that you have to clean for at least 7 days to have enough chance to pass a drug test.
3 – Detoxify Mega Clean
Another popular natural detox product that I saw recommended in a lot of forums is Detoxify Mega Clean. The name is a bit of hype, but hey, if it works, I'm OK with it. The good thing about this cranberry juice drink is that it contains only natural herbs, minerals, and vitamins.
The claimed effect is that it will flush out your kidneys and bladder in a short time, allowing you to provide a clean urine sample.
Based on all the reviews, it does seem to have benefits when you only have a few days to prepare for a urine test. But if you smoke a lot, then you may need to stack it with some of the pre-cleanse products they offer.
Pros
Natural herb blend claims to speed up detox processes
Contains vitamins and minerals to replenish lost nutrients
Claims to work in less than an hour
Can be stacked with pre-clean products for better results
Cons
Contains quite a lot of sugar
The tropical flavor is OK but tastes a bit more like cranberry juice, and due to the sugar, it's quite sweet.
4 – Herbal Clean Ultra Eliminex
Ultra Eliminex is based on a natural detoxification process that doesn't work instantly and requires some preparation. That might sound like a negative, but it actually shows that there isn't a quick solution for urine.
You need to fast for an evening and morning, and then take the full 32 ounces before you have any food. You also want to follow it up by drinking water and go for a pee frequently.
Pros
Contains natural herbal ingredients
Good blend of vitamins to replenish any loss during detox
Includes antioxidants to help flush out toxins
Many user reviews state that it works well for occasional smokers
Cons
The tropical fruit flavor is a bit too sweet
I'm not the biggest fan of tropical fruit flavors as they can be quite fake. This is also a bit on the sweet side, so I personally wouldn't call it the most delicious drink.
5 – Ultimate Detox Cleansing Drink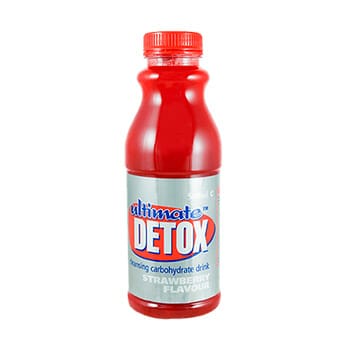 This is one of the few products that come with a money-back guarantee if you don't pass a drug test. While the company claims it will work for up to 5 hours, I would avoid risking anything beyond 2 hours.
Based on completely natural ingredients, this premium drink has the advantage of not being detectable. Essentially, it claims to trigger processes that boost kidney and liver functions which leaves your blood and urine with fewer trace elements that can be picked up in a drug test.
Pros
Claims to work within 1 hour
Contains natural ingredients that aren't detectable
No mixing required
Comes with a good money-back guarantee
Cons
Requires 2 days of preparation
To ensure you have the highest success rate, it's also recommended that you do some exercise, drink at least 60 ounces of plain water, and of course, avoid drug use for a full 2 days prior to your test.
6 – Rapid Clear Detox
Rapid Clear seems to have quite a loyal following, with many users reporting good results from their tests.
The instructions are easy to follow. All you're required to do is drink the content and then refilling the bottle with water.
Essentially, it can help you pee out all the toxins in your body.
It's important to do this on the day of the test, and about 1 to 2 hours before your deadline. This gives it enough time to work, allowing you to pass a drug test.
My personal favorite of the flavors is the lemon juice which is quite delicious; the cherry one has a bit of a fake taste.
Pros
Available in multiple flavors (including cherry and lemonade)
Claims to be most suitable for light to moderate drug users
Stronger capsules are available for heavier users
Hair and spit-cleansing products are also available
Cons
Some pre-detox cleansing may be needed
On the downside, I think it would be better to take the detox pills (more information here) as well, as some occasional smokers have reported failed tests.
7 – Herbal Clean Qcarbo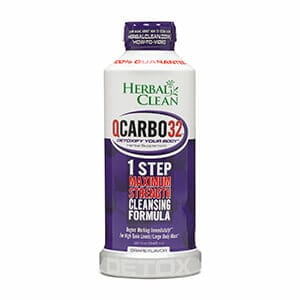 Herbal Clean Qcarbo32 is a single day premium drink with a strong formula that claims to work for heavier people or those with more toxins in their system. While the reviews are mixed, a lot of them mention that if you stick with the instructions, it works effectively.
You need to avoid adding any toxins and drugs to your body for at least 2 days beforehand, and ideally, do some exercise to release some stored toxins from fat cells.
Pros
Claims to work for people over 200 lbs
Comes with a money-back guarantee
Strawberry-Mango flavor is quite nice
Easy-to-follow instructions
Cons
A lot of users said they liked the flavor, but when you look at the label, you'll see a lot of sugar.
8 – Supreme Klean Detox
Supreme Klean Detox is one of the few detox drinks available with a larger selection of flavors, which does help a bit as some of the detox drinks have a bit of an artificial taste to them.
The company claims to be so confident in the product's efficiency that it offers a whopping 500% money-back guarantee if you don't achieve noticeable results. Yes, you read that right; 500%!
The instructions claim that by drinking the contents within 15 minutes and then refilling the bottle with water to be drunk within the next hour, you'll be toxin-free after 1 hour.
Pros
Claims to work within 1 hour and for up to 5 hours
Is available with additional pills for heavy users
Comes with a 500% money-back guarantee
Available in multiple flavors
Cons
There are mixed reviews of how well it works. If you don't want to take a chance on this one, then you'll be better off with the top recommendations featured above.
9 – Stinger The Buzz
A lot of people over 200 lbs struggle to find detox drinks designed for them, and often that means multiple detoxes to achieve the required result. Stinger claims to have created a formula that is suitable for higher levels of toxins and most people of size.
It claims to work after 1 hour, but keep in mind that you will need to be clean for 4 days and ideally stick with a low-fat diet to reduce the number of toxins in your body fat.
Pros
Claims to be suitable for people heavier than 200 lbs
Increased strength formula aims to deal with higher toxin levels
The grape flavor is not too overpowering
Better results achieved with a low-fat diet and more than 4 days toxin-free
Cons
One of the most sugary drinks on this list
While the grape flavor is not too overpowering, I have to note that from a sugar content point of view, this is one of the sweetest drinks available.
10 – Test Pass Detox
The final recommendation I have for this list is Test Pass, which claims to be specifically designed for people with higher toxin levels.
While it also claims that it will work within 1 hour and for up to 5 hours, there are a lot of reviews that say you need to do some pre-detox work in the days leading up to taking it.
One interesting tip in the instructions is to avoid any exercise on the day of the test. This could release fat cells which contain toxins that could impact the test result.
Pros
Contains a broad range of vitamins and minerals
Claims to work for people with high toxin levels
Combines a detox with a chewable pill, for targeted delivery of other ingredients
Several user reviews highlight it works better when drinking lots of water for 2 days prior
Cons
Quite a high-calorie count due to added sugar
The flavor is actually OK, but keep in mind that the 16-ounce bottle contains over 500 calories mainly due to its high sugar content.
Runner Ups:
The Ultimate
Jet Detox
Xtreme Detox
How Do Detox Drinks
Work

?

The basic concept behind removing toxins from your body is actually rather simple. Your kidneys and liver are the two main organs that are responsible for filtering out toxins. Those toxins include chemicals left behind from drug use.

If you were to switch to a fairly healthy diet and do a lot of exercise, then your body would naturally remove all toxins and evidence of drugs over a period of weeks and months.

However, there are general health benefits to having a more targeted and faster toxin removal.

This can be achieved by getting certain herbal ingredients into your system to make your liver and kidneys work harder. And that's where detox drinks come into play.

These same types of drinks can also trigger metabolic processes that are used in the fitness industry to help people lose weight. Most toxins from drugs are stored in fat cells, and if you can get rid of some of those cells, then you reduce the amount of evidence left in your body.

Make sure to check out our detailed guide on how do detox drinks work.
Home Made

Vs.

Off The Shelf

Products
If you ever go to health food stores, then you'll see that there are a ton of supplements and detox teas that people take mainly to improve their overall health. But the same stores will also stock a ton of ingredients to make your own detox recipes.
Now, I would caution here, as I have heard good and bad stories about homemade green smoothies that claim they can help you pass a urine test.
If you're going to go down that road, then make sure you have enough time to do a home drug test to check that it actually worked.
What a lot of people I know do is combine the two. They make up a smoothie for 5 days that has been designed to help you lose weight.
By combining apple cider vinegar, maple syrup, lemon ginger, cayenne pepper, and some fruit juice, you can get your body to naturally burn away more fat. Apple cider vinegar and lemon juice or lemon water are particularly effective.
When you follow that up with one of the best detox drinks, you can give yourself a bit more of a chance of passing a test.
Preparing

For A Detox Period

One thing I would say is that even though a lot of my detox drink recommendations claim to work within 1 hour, this does generally assume that you have done some preparation in the week leading up to it.

What this means is that for 4 to 7 days, you shouldn't be taking any drugs, and also take care that you're not exposed to any second-hand smoke from other users.

You should also aim to do some exercise to help burn off some fat cells that could contain toxins from drugs. You can even take 2 tablespoons of apple cider vinegar, which is one of the more effective natural fat burners. An alternative is cranberry juice since its antioxidant content helps with the detox process.

On the day of the test, follow the instructions of your chosen detox drink to the letter. Most failed tests can actually be traced back to taking shortcuts with the amount of water you drink, or not allowing enough time.

Oh, and one tip I would give you is not to put any ice cubes in the best detox drinks. Given the volume of water you need to drink, that will just lead to brain freeze and an upset stomach.
FAQ
Can detox drinks be detected in drug tests?
No, most detox drinks cannot be detected in drug tests. Because they generally contain perfectly legal herbs, there would be no reason to suspect them of anything illegal.
How long does it take to pass a urine drug test?
Passing a drug test after using a detox drink usually requires about 1 to 2 hours. However, you will also need to factor in several days of abstaining from drugs and going through some pre-cleanses. (find more details here)
How long does a detox drink last?
Most detox drinks last about 5 hours. However, from about 2 hours, the chance of passing can go down quite a lot, so it's always safest to stay within 2 to 3 hours.
How do you know if your body is detoxing?
You know that your body is detoxing if you have to frequently go for a pee and it still comes out yellow. Generally speaking, the frequent peeing will kick in within 30 minutes of starting the process.
Can detox drinks make you sick?
Yes, some detox drinks can make you sick. It all depends on the types and quality of herbs, so always make sure you check reviews for reports of stomach upset.
Are detox drinks worth it?
Yes, detox drinks are worth it, if you plan out the process well. Combining them with 5 to 7 days of cleansing and abstaining from drugs can help to improve your chances of getting the results you need.
Are detox drinks permanent?
No, detox drinks are not permanent, and more toxins from drugs can continue to be released for several weeks. Also, as soon as you take any drugs again, you'll be reintroducing toxins into your body.
Conclusion:
Which Detox Drink Should You Choose

?
Based on all the research I have done, there is one product where online reviews point to the highest success rate. Clear Choice Rescue Cleanse seems to be the option that a lot of people rely on these days.
So far, I have tested it out on a home testing kit, and it did seem to work. Generally speaking, though, I would always recommend to combine it with a full week of pre-cleansing as well.
Modern drug testing equipment is just getting that bit more sensitive, that you want to avoid taking any chances.