EZ Level Drug Test Review (2023) Should You Take It?
To rule out the presence of specific substances in the body, a drug test can be performed at home, during pre-employment screening, or in a rehabilitation center. Authorities may also conduct the test if they suspect a person of drug misuse.
If you are looking at how to pick the best home multidrug testing out of all the options available, don't worry. We got you.
Our specialists took a number of different home multidrug testing to the trial. That is where EZ Level comes in with their drug tests.
What Are EZ Level Drug Tests?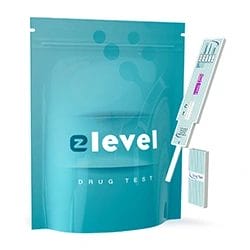 EZ Level creates and distributes drug testing kits that are accurate and easy to use.
Ordering a kit online is easy and you get results in a very short time.
These tests are perfect for checking marijuana and other substances in your system.
These drug tests come in the form of panels, which are most commonly used to check an individual's urine for illicit drugs.
Each package comes with testing kits placed in sealed individual pouches as well as easy-to-follow instructions. You will get accurate results without having to leave your home.
Just open the kit, urinate into the provided cup and dip the panel. After 5 minutes, read your results according to the instructions on the package.
Pros
Easy to use
Cheap
Results ready in just 5 minutes
Detects common types of drugs
Cons
May produce false positives and negatives
Does not test for alcohol
Custom rating criteria:
Price 4/5
Effectiveness 3/5
Package 4/5
Who Takes These Tests?
The typical individual is asked to take a drug test for work or legal reasons. However, these tests can be bought and used for personal reasons.
If done through a company or legal system, you'll be given directions to a local testing center where you will do the test in a secure location. This cuts back on any risk of trying to cheat the system.
"Even though weed is legal is some states, the federal government requires that you still have drug tests."– Michael Boron, YouTube Channel
The type of test you will be asked to take depends on the company or organization requiring it. But most companies will give you a day or two's notice before having you go in for this type of test, especially if it is for a 12-panel test.
EZ Level Drug Tests Highlights
EZ Level drug tests come in different formats. You get urine cups with most tests, but the number of panels varies. Roughly each panel tests for a specific drug. For example, a 12-panel drug test will test an individual for 12 different types of drugs, including illegal and prescription drugs.
Here are the drug tests that EZ Level offers.
12 Panel Urine Drug Test
The 12-panel drug test will test your system for 12 drug types, some of which are [1]:
Marijuana
Cocaine
Opioids
Methamphetamine
Oxycodone
Benzodiazepines
Amphetamines
Barbiturates
Methadone
Methylenedioxymethamphetamine
Phencyclidine
Propoxyphene
This is the perfect test for someone who wants to be privately tested for the most commonly abused drugs. Businesses and legal courts particularly use these tests.
6 Panel Urine Drug Test
The 6-panel drug test checks for only the major drugs such as:
Marijuana
Cocaine
Opioids
Amphetamine
Benzodiazepines
Methylenedioxymethamphetamine
You might use this option for companies that are only concerned with "street drugs" which are rarely prescribed. Either way, this option is perfect for anyone who does drugs occasionally.
Any illicit drug in the system could impair an individual's ability to work which is why many companies require drug screening [2].
Easy to use
EZ Level drug tests are simple and easy to use. They are ideal option for testing at home, school, or at business.
According to the prescribed cut-off levels, it is almost 99 percent accurate in detecting certain substances. In about 5 minutes, you'll get your results.
Package
Each test is individually wrapped to stay sterile and fresh.
EZ Level Drug Test Shortfalls
Drug tests can be difficult to read at times, especially when dealing with the possibility of a false-positive result, which occurs when a drug test is positive due to an over-the-counter medication or food, such as poppy seeds.
Comparison to Other Drug Panel Tests
Compared to other panel drug tests, The 12-panel drug test will test your system for 12 drug types. Pre screen Plus Mini is five-panel test that screens for marijuana, opiates, amphetamines, cocaine and meth. Easy@Home checks also for five, and Care Check only checks for marijuana.
Related Reviews:
Where to Buy EZ Level Drug Tests?
You can buy EZ Level Drug tests online, at major stores or pharmacies. In case you are ordering online we are encouraging you to look for specialized online stores that will guarantee you the best price and quality of the test.
Other Users' Reviews
"Of the three different products we've tested so far, I can safely say that this is the most accurate tool we use as parents. Combined with Ease of use and speed, this product is most definitely the best value for the money. If you have a need for such a product, this is truly a great choice no matter the circumstance, situation, environment or time constraint." – Jessica Q. from Florida
How to Read This Drug Test?
The first step is to take out the kit and read the instructions carefully. You will be asked to collect enough urine samples in the cup provided.
To start the testing, the absorbent end of the panel should be immersed in the sample for about 10 seconds.You need to wait for around 5 minutes for the results. The results can be either positive or negative.
A positive result means that a drug or its by-product was found in your system. Typically this will raise alarms if the test was ordered for a job opportunity or court case.
A negative result means there are no drugs or not enough drugs in your system to be detectable by the drug test.
In the EZ Level drug test, the lack of a rose-pink line on the test (T) region indicates a positive result. When both control (C) and test (T) regions have visible rose-pink lines, the result is negative.
Aside from convenience and affordability, most users particularly like how the instructions clarify that even a faint line on the T region still means a negative result. It seems to produce pretty accurate results, but there are a few users that had either false negatives or false positives.
To get accurate results, it is recommended to take the test first thing in the morning when urine tends to be the most concentrated throughout the day, making it best for detecting any substance that may be in your system.
FAQ
How accurate is EZ level drug test?
According to the prescribed cut-off levels, it is almost 99 percent accurate in detecting certain substances.
How long does it take to get results?
You will be able to read your results in 5 minutes.
When is the most appropriate time to take the test?
When possible, use first-morning urine because it is the most concentrated.
Should I Take an EZ Level Drug Test?
EZ Level drug tests perform well and are trusted by many mainstream companies as well as individuals. You won't go wrong if you choose one of the EZ Level testing options.
Remember, the number of panels on the drug testing cup indicates the number of drugs to which the test is sensitive. Depending on your needs and circumstances, opt for a test with 6 or more panels.
The 12-panel PreScreen Plus Mini Drug Test is your best option if you're looking for an accurate, CLIA-waived urine testing kit. It has a simple design and gives individual results for each substance.
This 12-panel urine drug test has unique test strips for each substance and can detect more illicit substances than most other CLIA waived 5- or 10-panel kits. CLIA-waived 12-panel drug test cups are meeting  particular criteria in the CLIA regulations and are FDA-approved for home use.
Check it out, and get your home drug test today.