Rely Detox Review
There is no harm in using recreational drugs, especially when anxiety is a crippling issue, but you should be responsible when doing so.
If you want to get a job, most companies require that you pass a drug test.
To help you get the best of both worlds, we have researched numerous products, one of which is Rely.
In this Rely review, we'll let you decide whether it's a good product or if there's something more effective.
What Is Total Eclipse

Rely Detox Drink?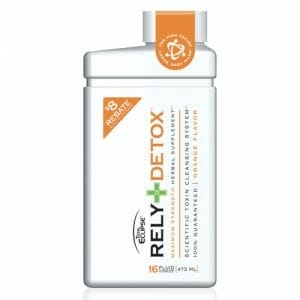 Rely is a detox drink manufactured by Total Eclipse, meant for same-day cleansing, whether it is to pass an upcoming drug test or in preparation for a new diet routine.
The product has been around for 15 years and is one of the leading brands in the market.
It is a potent detox drink that promotes itself as working best for those with high levels of toxins or have a large body mass.
Our research has found, however, that Rely has received mixed reviews for drug test use, it works well for others, but there is also a significant number that has some things to say about it.
Total Eclipse Rely Detox Drink Key

Ingredients
To help you understand better what is in store for you inside the Rely Detox bottle, we have listed the set component sets that comprise the drink. You can find more information about what nutrients they give through the product packaging.
Dandelion Root Extract
Dandelion Leaf Extract
Ginger Root
Creatine Monohydrate
Turmeric Root Extract
Milk Thistle Seed Extract
Echinacea Purpurea Herb Extract
Juniper Berry Extract
Licorice Root Extract
Uva Ursi Leaf Extract
Ligustrum Berry Extract
Guarana Seed Extract
Cayenne Pepper
Riboflavin (Vitamin B12)
5 Main Highlights

of Total Eclipse Rely Detox Drink
1. Easy-to-use
Like many other same-day detox drinks, Rely also is a ready-to-drink concoction that you can consume immediately and then rinse the bottle with water. You will only have to follow the proper rinsing times (once for those with lesser weights and twice if you are on the heavier side). Also, you can find the recommended instructions on how you can ensure that the product works by visiting their site and following the instructions stated there.
2. For high levels of toxins
Total Eclipse claims that Rely is for those who have high levels of toxins in their systems. The claim is almost unique to the company as other brands do not target a particular audience with their products. However, Rely is not exclusive to the said population; it can also work well for you even if you are lighter in weight or do not have high toxins in your body.
3. Uses natural ingredients
Like many popular detox drink brands, Total Eclipse Rely Detox maximum strength also claims to be made of only natural ingredients. The company has blended a mix of naturally detoxifying herbs and plants to create the product.
4. Replenishes body's natural balance
Aside from detoxification, the ingredients of Total Eclipse Rely Detox maximum strength is also said to replenish the natural balance in the body. Based on our research, the plants that comprise the drink have natural tendencies of being vitamins and minerals that can help boost the body's functionality.
5. Supports major organs
The Total Eclipse ingredients also not only detoxify and replenish vitamins and minerals; they also serve as support to significant organs in the body. The heart, the liver, and the kidneys are just some of the organs that are positively influenced by these substances.
"Each person must implement their preferred problem-solving method to address existential questions about life and death, living and loving, working and playing, resting and restructuring"– Kilroy J. Oldster, American author
Related Articles:
What About

The Drawbacks of Total Eclipse Rely Detox Drink?
Does not meet all expectations
Although the Total Eclipse product has an overall good reputation in the market, some customers are dissatisfied with the results they had after consuming Rely Detox. Thus, the product does not have a 100% success rate, and you will have to consider whether or not you are willing to risk purchasing it.
However, not every tip to ensure the best results for Total Eclipse Rely Detox consumers are available. Our team has talked to some individuals who were unaware that they needed a pre-detoxification lifestyle change for it to work. If you are interested in using the product, we recommend you list down all the necessary adjustments you have to make beforehand.
Flavor unpleasant for some
Although relatively a minor shortfall and some find it decent enough, Rely Detox has an unappealing taste for some of its patrons. You can, of course, treat it like medicine, which no one expects to be flavorful, and chug the unpleasant experience with big gulps of water.
Is Total Eclipse Rely Detox Drink

worth your money?
Does Rely Detox work? Based on our research, Total Eclipse Rely Detox is a good enough product for detoxification for a urine drug test. However, our team has found a better alternative to the product that you might want to consider.
Our team recommends Clear Choice Rescue Cleanse as it works faster and contains all-natural ingredients to get rid of free radicals and promote good liver function.
Clear Choice Rescue Cleanse is a leading name in the market that has received better feedback about its effects than most of its competitors.