Jet Detox Cleanser Review
Jet Detox is one of those products that loads of people jump on because of smart marketing. 
Don't get me wrong. I think marketing is an important way to bring great products front and center. But with many detox products available these days, it's mostly about selling and less about providing genuine customer value. 
The majority of products that we test end up being pretty useless. But we always use the same system to try them out and see if they work in the real world. 
In this review, we'll show you the ingredients, how it's supposed to work, and what really happened when we put it to the test. 
What Is Jet Detox Cleanser?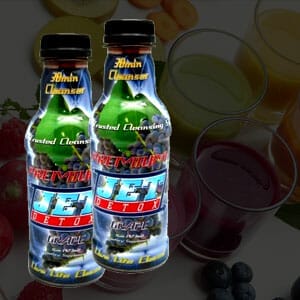 Jet Detox Cleanser Premium is a detox drink that claims to flush out your system in a matter of hours. 
According to the product website, it works by using natural ingredients, ranging from vitamins to herbs. 
These have been chosen based on scientific research, which apparently confirms that they are effective at removing toxins.
However, none of the advertised information specifically mentions that the product is good at helping pass a drug test. 
What's more, almost all of the other products in this category are advertised on platforms where you'd expect marijuana smokers to hang out.
So let's see if there's any research to support these claims. 
Jet Detox Ingredients
We found eight main ingredients on the label. But we were disappointed to read that the exact amounts are hidden behind a proprietary label.
What does that mean?
Basically, you won't know if the most effective ingredients are included in a sufficiently potent dose. 
Let me show you what we found.
1 – B-Vitamins
These seem to be commonly used in treating drug addicts. Your body needs them to produce red blood cells and transport nutrients to your organs [1].
2 – Creatine
Creatine is important in order to keep your creatinine levels in your pee high enough. This level could drop during detox. And that might trigger a diluted sample result.
3 – Milk Thistle Extract
This is included, as some studies suggest that it may boost your liver function [2]. The big question is whether there's enough of it to make a difference.
4 – Echinacea Purpurea Leaf
Most of the information we found seemed to link this to supplements aimed at boosting your immune system. We're not entirely sure why it's included to remove toxins.
5 – Burdock Root
This herb is known as a diuretic, which could help to flush out unwanted toxins in a short period of time. 
6 – Nettle Leaf
This seems to be one of the oldest natural remedies for getting rid of unwanted toxins [3]. You'll often see it as a tea in health food stores.
"Nettle tea is gradually assuming huge popularity in the West, a part of it is attributed to its excellent detox properties. The best way to consume it would be to opt for the tea-bags easily available in the market."
7 – Uva Ursi Leaf
We did find a few studies that confirmed this herb could help remove free radicals, but those studies used a larger amount than what we think is in this product. 
8 – Guarana
This is often included in energy drinks as a stimulant. But there is also some research that suggests it could be helpful at removing toxins stored in different body cells. 
Related Reviews:
How Does It Work? 
The above info on the product ingredients would give you an idea about what the company is trying to achieve.
It's not a new concept, but basically, your body is encouraged to remove more unwanted toxins over a period of a few hours. 
This would include evidence of drug use that could be flushed out through your pee. 
The idea is that you would gain a window of time during which your pee would be free of toxins that could otherwise trigger a failed drug test result. 
But it all comes down to how you take it. 
How Do You Use It?
The instructions are simple to follow, but it's important to go through them before you get started. Missing a step could end up making a product like this useless.
Here's what to do:
Avoid all drugs for 24 to 48 hours (not even a quick puff of weed)
Drink the full 16-ounce bottle in about 10 minutes
Refill the bottle with water and drink it within 15 minutes
Refill the bottle a second time and drink within 15 minutes
Urinate frequently
Apparently, it will work for up to 7 hours, which seems a lot longer than most other similar products.
Let's see how it worked for us.
Does It Work? 
We waited for the recommended 48 hours before using this quick cleanse. 
On the morning of the test, we followed the instructions as described and had to pee a lot.
After 1 hour, 2 hours, and 4 hours, we took a urine sample and used a standard drug test kit. Unfortunately, the results weren't great. 
All three of them failed the test, which doesn't even come remotely close to other available products. 
FAQ
How Long Does Jet Detox Last?
The product lasts up to 7 hours, according to the company website. However, most customer comments said that it didn't come close to that, and our own tests seemed to confirm that. 
Is Jet Detox Available on Store Shelves?
No, it isn't available on store shelves. It's only officially sold on the company website and Amazon, and I wouldn't recommend buying it in most stores as there are too many fake products out there. 
Do We Recommend Using Jet Detox?
No, it's not a product we would recommend based on the Jet Detox Cleanser reviews we have read and the test results we got. 
It's not worth taking the risk, especially when there is are related products that could have a much better effect on your body.
Our recommendation is to stick with Clear Choice Rescue Cleanse. It seems to have one of the best formulas and the largest amount of effective ingredients than related products. 
And our readers seem to be reporting the best results as well – so have at it!