Detoxify Mega Clean Review

I've been contacted by a lot of my readers and people on social media about my option on the Mega Clean drink. There seem to be plenty of ads following me around the Internet, so I thought I better find out what it's about.
One of the main questions is, of course, could it help you pass a drug test, and I decided to run some tests and compare the results from other detox drinks.
The results were indeed quite surprising, so make sure you don't head off and buy a bottle before you read my Mega Clean detox review.

What Is
Detoxify Mega Clean

?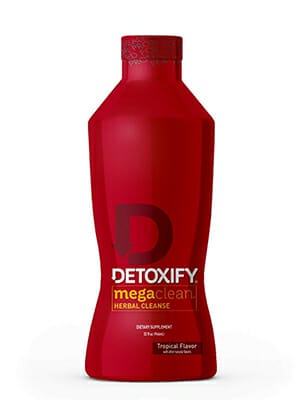 Detoxify Mega Clean is a herbal cleanse that uses a blend of natural ingredients that claim to help your body remove toxins. While it's a common product in the health and well being industry, many people have been recommending it to help pass a drug test.
I have to say right from the start here, that it's not really a standalone product.
What do I mean?
Well, it's advised that you combine it with another product called PreCleanse, which needs to be taken for 48 hours before taking Mega Clean.
The natural ingredients of the two products aim to kickstart liver, kidney, and antioxidant functions in your body. As a result, you may be able to rapidly remove toxins left behind by drug use.
We'll get to how well it works below.

What Are The
Ingredients

?

As already mentioned, Mega Clean is formulated using natural ingredients that are not on any controlled substances list. This means that they are generally safe to use without themselves being the cause of failed drug tests.
Here's what you'll find on the label:
Burdock root extract
American Ginseng root extract
Guarana seed extract
Milk thistle seed extract
Stinging nettle leaf extract
Taurine
Uva ursi leaf extract
There'll be no rewards for remembering any of these, but you might be interested to know how they could help pass a drug test.
The most notable clinical test I found on burdock root has shown that it might indeed support detoxifying the blood [1]
Similarly, ginseng has been shown to have effects on liver function, which is a key part of your body's ability to remove toxins left by drugs [2].
While this does give a good indication that the formula may be effective, I would highlight at this stage that other available detox drinks have a much longer list of active substances.
"Burdock root has been valued across continents for thousands of years for its ability to purify blood and cool internal heat."
– Dr. Axe, medical doctor
How Does Detoxify Mega Clean
Work

?
The Mega Clean detox drinks work by triggering cleansing processes in your organs. This mainly happens in the liver and kidneys, which is where the majority of toxins are filtered out and then removed from the body.
These are completely natural processes, and Mega Clean claims to have a formula that boosts these functions.
In addition, there are active substances in Mega Clean detox drinks that aim to work as antioxidants to remove free radicals from your bloodstream.
Before I get to how well it actually functions to prepare you for drug testing, let me give you some details about how you need to use it.
Related Articles:
How Do You Use

Detoxify Mega Clean?

The instructions that come with Mega Clean are pretty simple, but it seems like quite a few people fail to follow them for some reason.
If you want to pass a drug test, then make sure you follow the detox drink instructions exactly as printed.
From the reviews I've seen, it's most often a problem with not sticking to the detox drink instructions.
Here's what you need to do:
Avoid smoking and other drugs for at least 24 hours, ideally 3 days, before the detox
Ideally, start your cleanse in the morning after you've been fasting overnight.
Shake the Mega Clean bottle well and drink the entire contents in 15 minutes
Within 15 minutes refill the bottle with water
Drink the water as quickly as is comfortable
Urinate frequently for the next two hours to flush out the toxins
By drinking plenty of water for the rest of the day, you could extend the cleansing process for 24 hours
I mentioned above that there are some PreClean pills that you can take a few days before the cleansing as well, but we'll cover that in another post.
How Long Do You Need To Take

Detoxify Mega Clean Drink?

You need to take the Mega Clean detox drinks at least 2 hours before a scheduled urine test. As this is the minimum, it's probably safer to also get some extra water into your system to flush out your kidneys.

I have seen some reviews where people used Mega Clean just within the time suggested and didn't pass the urine test.

Best to stay on the safe side, or consider one of the alternatives I suggest below.
How Much Is

Detoxify Mega Clean Cleansing Drink?

The Mega Clean detox drink usually retails for around $25 per bottle. That might seem like a low price compared to other products, but keep in mind that it contains less active substances.

Other detox drinks might have a higher price, but you're going to get something that may provide a higher chance of success.

Also, only buy the detox drink from a reputable source as there are too many fake products out there.

FAQ
Does Mega Clean work for opiates?
No, there is no clear evidence that Mega Clean works for opiates. I have seen reports of a few failed drug test results, so you might want to consider some alternative options. Getting rid of the opiate toxin might be more of a challenge.
How long does Detoxify Mega Clean last?
Detoxify Mega Clean claims to last for about 3 to 5 hours after you have completed flushing out toxins. Aim to plan the detox for between 2 and 4 hours before the drug test to increase your chances of success with this powerful detox drink.
Does Mega Clean give you diarrhea?
No, Mega Clean doesn't give you diarrhea, unless you have some known allergies to any of the content. Read the label carefully before you drink it to avoid any unpleasant side effects.
When should you take Detoxify Mega Clean?
You should take Detoxify Mega Clean at least 2 hours before a drug test to ensure your kidneys are fully flushed out. To be on the safe side, give yourself 3 hours to ensure your toxin levels are low.
Conclusion: Does Detoxify Mega Clean Cleaning Drink Really
Work

?

I've used pretty much all the popular detox drinks and checked the results on a home drug test. While Mega Clean does work for some people to pass a drug test, I have seen reviews where heavy smokers had not passed a drug test.

The product that I generally recommend is Rescue Cleanse, which works on a similar basis as Mega Clean, but it has a better formula that claims to even work on heavy smokers and folks over 200 lbs.

If I had to pick one, Rescue Cleanse would be it.